Our History
Sensei Hamid has always had a passion for competitive sports. Prior to his introduction to karate, he played professional soccer. As a child, Hamid admired Bruce Lee and Jackie Chan for their speed and skill; this resulted in his constant yearn to learn the art of karate, but it wasn't until 1993 that his real love with Shotokan Karate began.
Under the patronage of Sensei Hassan Esmaili, (Kanazawa Organization) the former president of the Karate Federation of Iran; Hamid remarkably received a bronze medal in the Iranian National Championships, acquired two silver medals in the Capital City of Iran Championship and earned his place at the Iranian National Shotokan Karate Team. Furthermore, he was selected as an Iranian National Shotokan Karate Team member at the Shotokan Camp for World Championship in Italy. Once in Canada, he continued competing, and successfully earning:
• 6 Times Gold Medalist in BC (Open Division And -70 Kg) 1999
• Gold Medalist in Canadian Championships, 2001
• Silver Medalist in Canadian Championships, 2002
• 4th Place at Pan-American Championships in Puerto Rico, 2002
• Gold Medalist in the Canadian Shotokan Karate Championships, 2003
• 3 Times Bronze Medalist in Canadian Championship, 2003, 2006 & 2007
• Silver Medalist in Canadian Championship for Team Kumite, 2009
• 3 Times Gold Medalist in BC (-70, -75 Kg Division) From 2007
• 7th Dan (degree) black belt from World Union of Karate-Do Federations (WUKF)
• 6th Dan (degree) black belt from Karate Canada Federation (KCF)
• 6th Dan (degree) black belt from world Karate Federation (WKF)
• 6th Dan (degree) black belt from world Shotokan karate organization (WSK)
• 4th Dan (degree) black belt from Shotokan karate international federation (Hirokazu Kanazawa SKIF)
• British Columbia team coach
• Certified for coaching development in the following fields (Comp Dev Workshop, Karate Competition Introduction Coach Workshop, Make Ethical Decisions Online Evaluation)
• First-aid and CPR certification • British Colombia Team Coach
• Certificate of Official Recognition of Coaching License (WKF)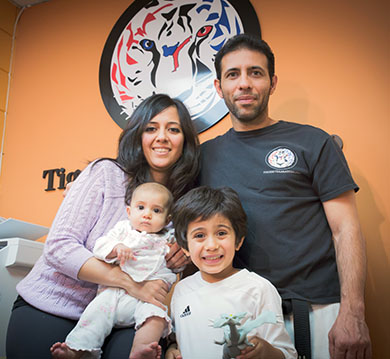 Karate has helped Sensei Hamid in an uncountable number of situations. It has instilled him with discipline and patience to overcome obstacles. It drove him to become self-motivated and aided him in the drastic change when he immigrated to Canada. His practice has always lent him clarity and perspective; combining his code of ethics with the philosophy of Martial Arts. Hamid has consistently managed to further strengthen his relationships with his family, friends, community and most importantly with himself. The joy of facing challenges and ongoing work will forever continue but karate has given Hamid the strength to overcome any obstacle thrown his way.
In 2004 Hamid establish his own business, a karate school he called Tiger's Eye Karate-Do. Through teaching, Hamid seeks to share his experiences and the values he has learned. His goal is to create a learning environment where both inner and outer growth is possible within Tigers Eye Karate-Do; leaving his students with a sense of accomplishment and leading them a step in the right direction.