Ladies
Martial-Arts
Cardio
Classes

Ladies Martial-Arts Cardio Classes
Our Ladies Martial-Arts Cardio Classes are fun and high energy - get ready for a total body workout! Using weights and body resistance, our Certified Martial Arts Instructor will guide you through exercises designed to tone, strengthen and get you fit! The movements are simple but practical and the kicks and punches are highly effective self-defense techniques.
The high energy music and an enthusiastic instructor will keep you going, throughout the total body workout! Kick butt and burn up calories.
All levels are welcome. Whether you are just starting out or already fit as a fiddle, these classes will challenge you to reach a new level. Get your body pumping and join us for a class of full body-sculpting exercises and high-energy cardio!
Classes are offered:
● Monday, Wednesday and Friday morning and Tuesday and Thursday evening at our North Vancouver Dojo
● Mondays 7:45 - 8:45 pm at the Vancouver Roundhouse Community Centre
For more information and a FREE TRIAL class please contact us at 604-765-9746 or email us at This email address is being protected from spambots. You need JavaScript enabled to view it..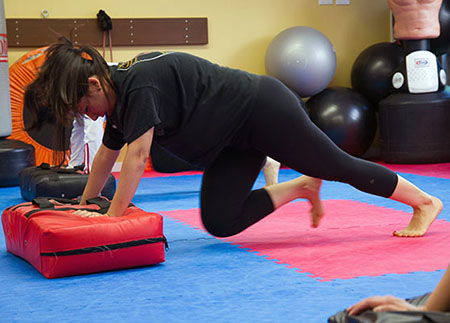 Ladies Martial Arts
How is your fitness conditioning? Do you need a kick start or perhaps you're looking for something more than what you're already doing at the gym or on your own? Do you want to feel empowered and the strongest mentally and physically of your life? If your answer is "Yes" to any of these questions then you're looking for THIS all Women's Cardio Kickboxing class from Tiger's Eye Karate.
With punch, jabs, hooks, kicks and knee strikes, you will develop coordination, strength and develop confidence and empowerment that no other full-body workout can give you. This class will work every muscle in your body and help you discover those that you didn't even know you had.
There is no better way to tone and condition your body like cardio kickboxing. At Tiger's Eye, we don't just use punching bags for our workouts. With the use of focus mitts, Thai pads, and various other shields and equipment you will build a stronger frame, chisel your arms, tone your legs, trim your waist and even lose some weight. You will rev your metabolism into overdrive and be burning calories long after your cardio kickboxing workout ends! We will help you achieve your fitness goals and get you in the best shape ever! At Tiger's Eye, you will find your inner warrior and be fierce and fearless.
Women's Cardio Kickboxing at Tiger's Eye is for all levels of fitness from beginners to intermediate and advanced. Your first step is showing up. Leave the rest to us!
Women's Cardio Kickboxing classes at Tiger's Eye:
Thursday 9:30-10:30 am
Sunday 10-11 am
We believe in having fun while working hard and best of all you will see results – guaranteed!
Please contact us for more information.